Hi, there.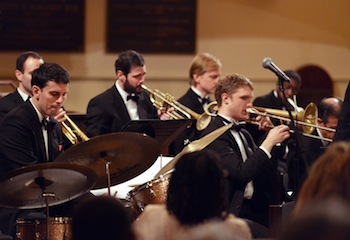 You have reached the official website of The Brooklyn Jazz Orchestra (BJO). The BJO is a large jazz ensemble firmly rooted in the jazz tradition while also keeping an eye toward the future of creative music.
The band's repertoire includes music from Duke Ellington, Stan Kenton, Count Basie, Thad Jones, Gerry Mulligan, and many others. The BJO also commissions new music and arrangements from today's leading composers. Brooklyn Jazz Orchestra concertgoers can expect a fantastic performance of exciting music.
---
Upcoming Shows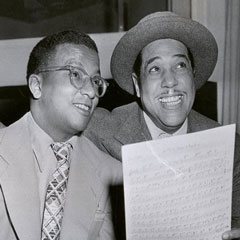 The Brooklyn Jazz Orchestra Performs the Compositions of Duke Ellington and Billy Strayhorn!
On Sunday, December 6th, 2015, members of the Brooklyn Jazz Orchestra (BJO) will perform a concert featuring the compositions of Duke Ellington and Billy Strayhorn. The concert will include a rare presentation of the entire "Unknown Session" album. "Unknown Session" is a much beloved album for any Ellington fan, and features legendary Ellington sidemen Johnny Hodges, Paul Gonsalves, Harry Carney, Ray Nance, Lawrence Brown, Aaron Bell and Sam Woodyard. The album was recorded by Duke Ellington in 1960, but was not released until the late-1970s after Ellington's passing. All songs but one on "Unknown Session" were composed by either Ellington or Strayhorn, and the album exemplifies the power the of their artistic partnership.


In addition, this special eight-member BJO ensemble will celebrate Billy Strayhorn's birthday on the 100th anniversary of the legendary jazz composer's birth.
Date: Sunday, December 6th 2015
Time: 5:00 PM
Location: Lafayette Ave. Presbyterian Church
Address: 85 S. Oxford St. Brooklyn, NY 11217